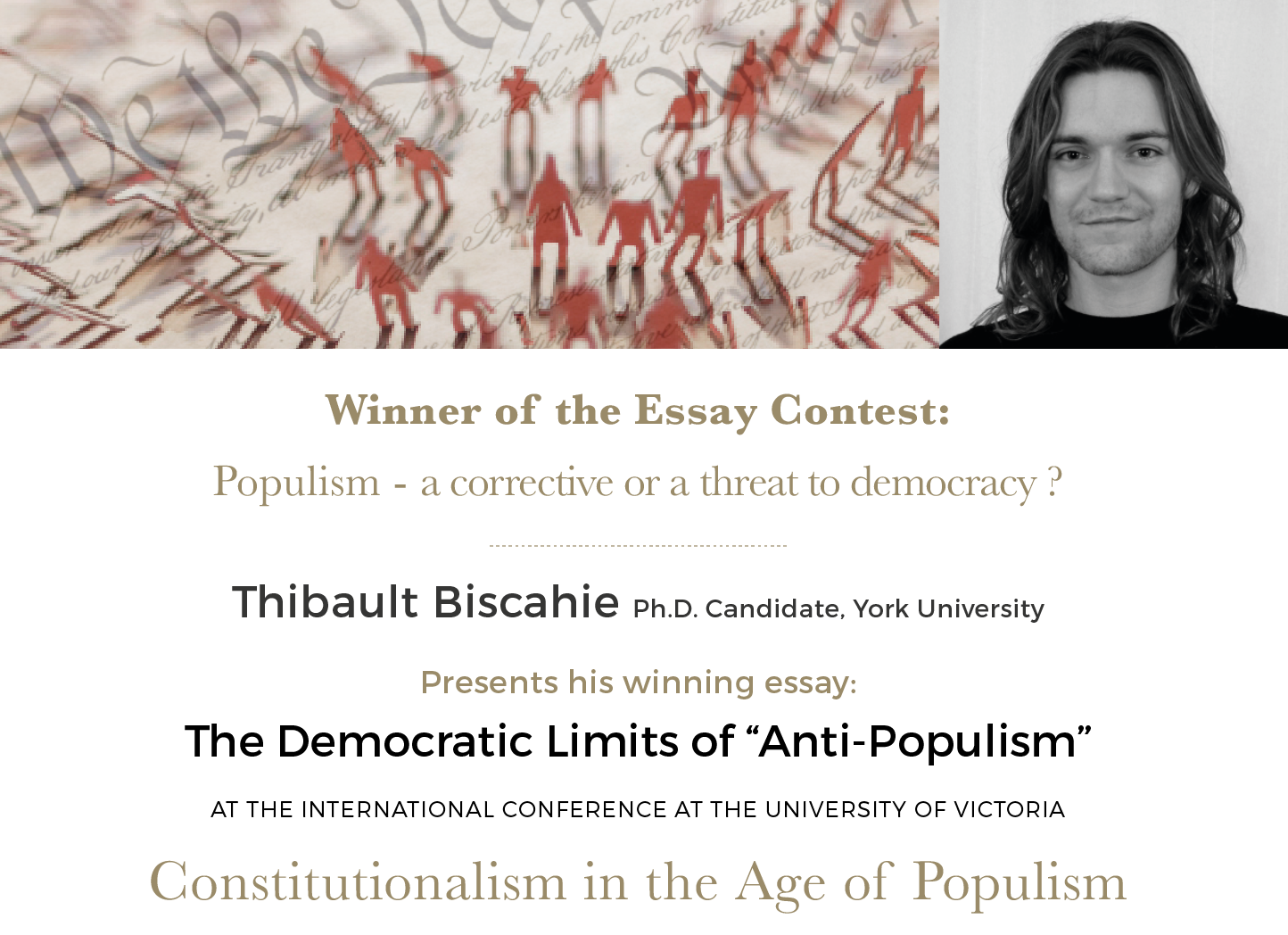 In January 2020, the Jean Monnet Project "Europe Dialogue on Democracy: Democratic deficit and the rise of populism in Europe" (CEDoD) - co-financed by the Erasmus+ Programme of the European Union and the Centre for Global Studies at the University of Victoria - launched its essay contest "POPULISM: a corrective or a threat to democracy?". As part of the CEDoD's outreach initiative to connect young scholars and promote their work, we invited graduate, doctoral, and recent post-doctoral students enrolled or employed at a university in Canada to submit essays for adjudication.  
A high profile panel of experts from Canada and Europe adjudicated the submissions. Panel members included, professors Robin Celikates (Social Philosophy, Free University Berlin, Germany), Peter A. Kraus (Political Science, Director of the Institute for Canadian Studies, University of Augsburg, Germany), David Owen (Social and Political Philosophy, University of Southampton, UK),  Oliver Schmidtke (Political Science and History, Director of the Centre for Global Studies at the University of Victoria (UVic),  James Tully (Political Science, Law, Indigenous Governance and Philosophy, UVic) and Jeremy Webber (Faculty of Law, UVic). The selection criteria included: quality of argument made to current political issues, use of selective powerful quotes, application of critical thinking, and an original/compelling writing style.
Submissions were received from across the country and the adjudication panel decided unanimously to award:   
Thibault Biscahie,
a PhD Candidate at York University,
for his contribution: The Democratic Limits of "Anti-Populism"
As the winner of the essay contest, Thibault Biscahie was invited to present his essay at the international conference, "Constitutionalism in the Age of Populism" https://bit.ly/2QTME8P (March 6-8, 2020) at the University of Victoria.
Honorable mentions include:
*** Hungary's Populist-Nationalist Discourse: Bridging Supply and Demand Factors, by Phillip Swallow, MA student with the European Russian and Eurasian Studies (EURUS) program at the  Carleton University
***
Illiberal Democracy and Reimagined Nationalism: Hungary's Border Security Policies, by Kristen Csenkey, PhD in Global Governance (WLU) at the Balsillie School of International Affairs
***
Populism – a corrective or a threat to democracy?, by Laurence Claussen, MA student in the Department for Political Science at the University of British Columbia
We are thankful for all submissions and wish to congratulate all the finalists.