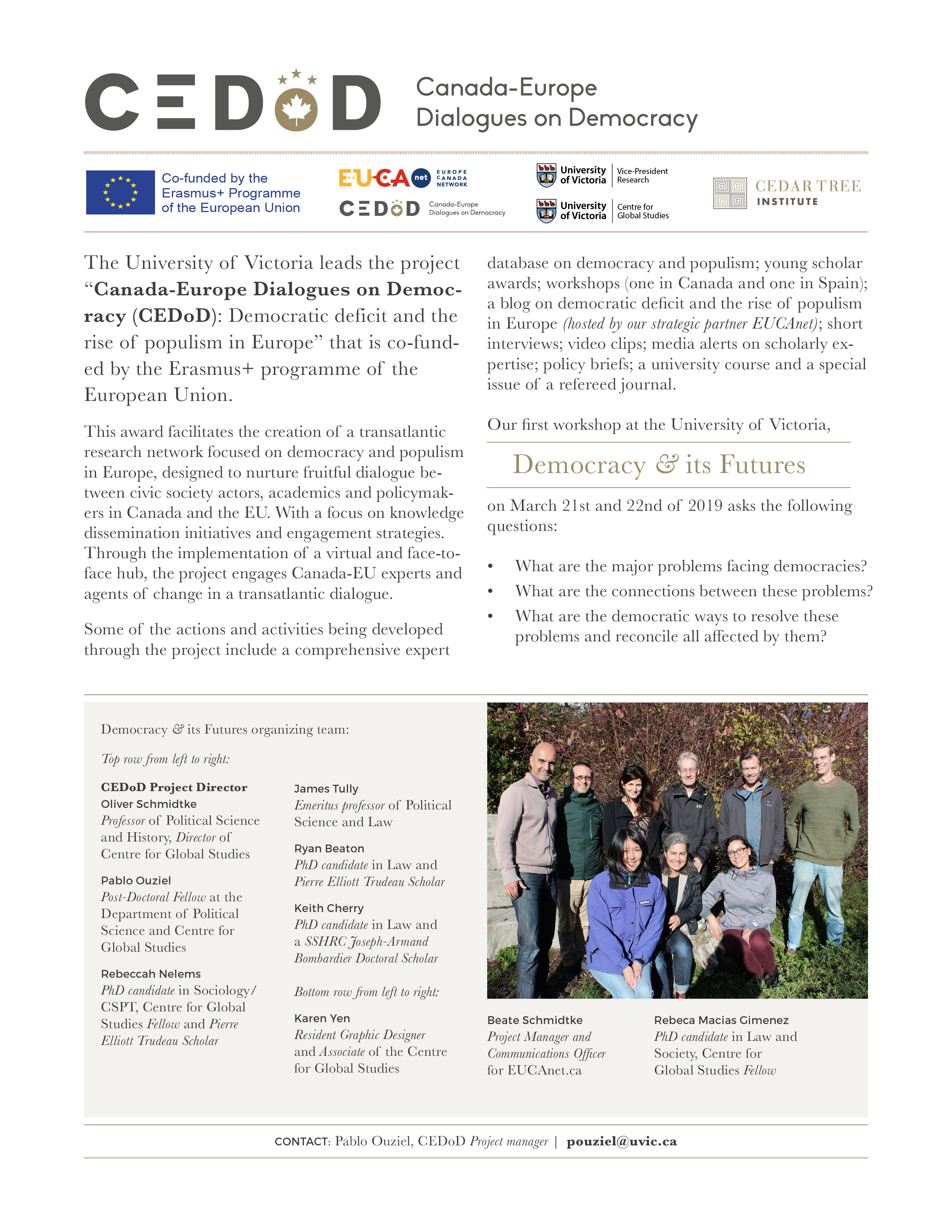 The UVic lead project "Canada-Europe Dialogues on Democracy (CEDoD): Democratic deficit and the rise of populism in Europe" has been awarded a European Union, Erasmus+ Jean Monnet Project grant 2018-2020.
This award facilitates the creation of a transatlantic research network focused on democracy and populism in Europe, designed to nurture fruitful dialogue between civic society actors, academics and policymakers in Canada and the EU. With a focus on knowledge dissemination initiatives and engagement strategies, and through the implementation of a virtual and face-to-face hub, the project engages Canada-EU experts and agents of change in a transatlantic dialogue.
Some of the actions and activities being developed through the project include a comprehensive expert database on democracy and populism; young scholar awards; workshops (one in Canada and one in Spain); a blog on democratic deficit and the rise of populism in Europe (hosted by our strategic partner EUCAnet); short interviews; video clips; media alerts on scholarly expertise; policy briefs; a university course and a special issue of a refereed journal
Our first workshop at the University of Victoria, on March 21st and 22nd of 2019 asks the following questions:
What are the major problems facing democracies?
What are the connections between these problems?
What are the democratic ways to resolve these problems and reconcile all affected by them?
Democracy & its Futures organizing team:
Oliver Schmidtke, Professor of Political Science and History, Director of Centre for Global Studies; Pablo Ouziel, Post-Doctoral Fellow at the Department of Political Science and Centre for Global Studies; Rebeccah Nelems, PhD student in Sociology and Cultural, Social, and Political Thought (CSPT), Centre for Global Studies Fellow and Trudeau scholar; James Tully, Emeritus professor of Political Science and Law; Ryan Beaton, PhD student in Law and Trudeau scholar; Keith Cherry, PhD student in Law and a SSHRC Joseph-Armand Bombardier Doctoral Scholar ; Karen Yen, Resident Graphic Designer and Associate of the Centre for Global Studies; Beate Schmidtke, Project Manager and Communications Officer for EUCAnet.ca; Rebeca Macias Gimenez, PhD student in Law and Society, Centre for Global Studies Fellow.
CONTACT: Pablo Ouziel, CEDoD Project manager | This email address is being protected from spambots. You need JavaScript enabled to view it.