Young Scholar Essay Contest: POPULISM - a corrective or a threat to democracy?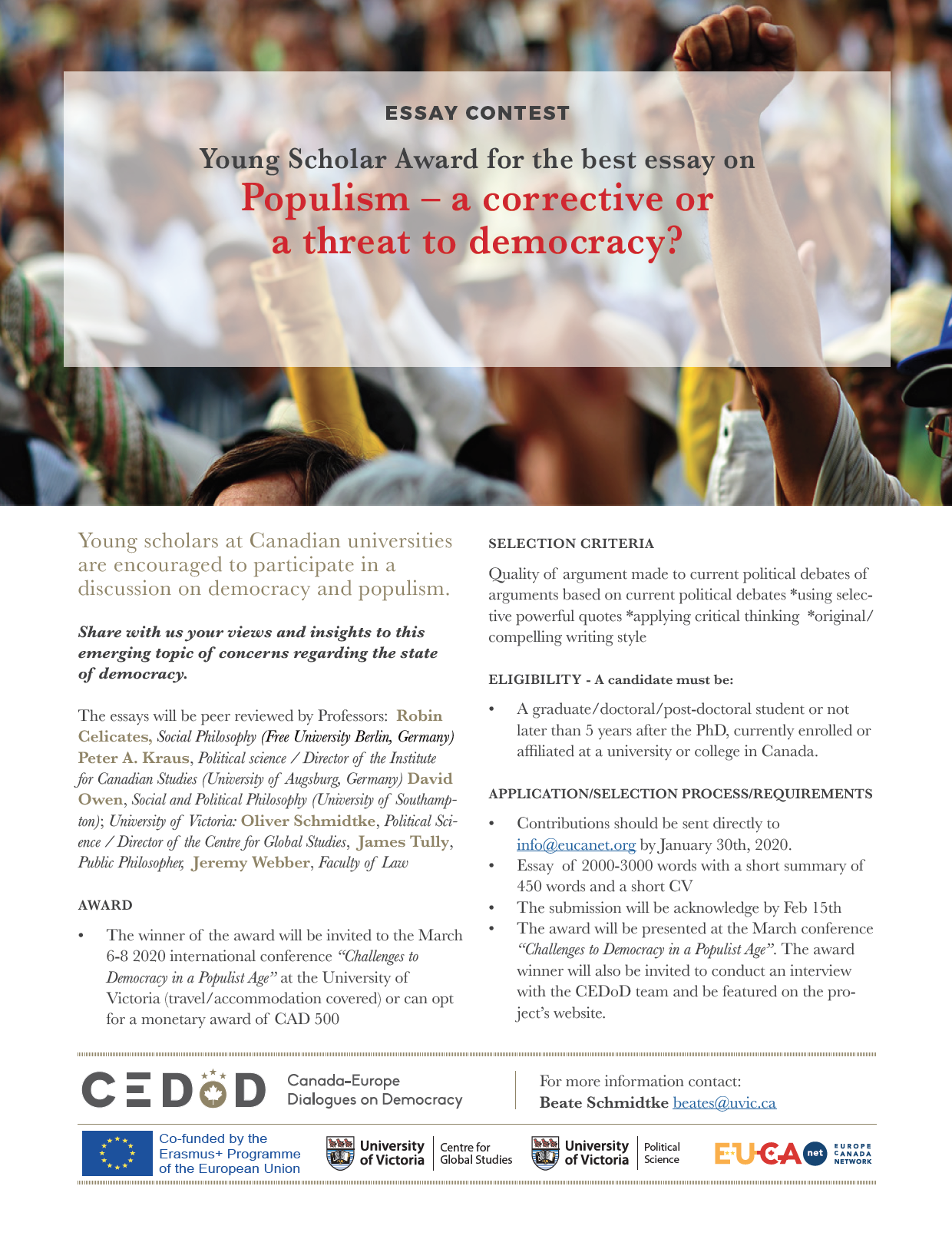 Young scholars at Canadian universities are encouraged to participate in a discussion on democracy and populism
The rise of populism from the right and the left has fundamentally challenged traditional party politics in Europe and North America. Established centrist parties are on the decline and new actors claim to speak and act directly on behalf of the 'people'. What is driving this populist surge? What does this development mean for democracy? Should we interpret the rise of populism as a necessary corrective to current deficiencies of liberal democracy or a genuine threat to the integrity of its institutions?
Award:  The winner of the award will be invited to the March 6-8, 2020 international conference "Challenges to Democracy in a Populist Age" at the University of Victoria (travel/accommodation covered) or can opt for a monetary award of CAD 500. The best essay(s) will be published on various online platforms.
Selection criteria: Quality of argument made to current political, using selective powerful quotes, applying critical thinking, original/compelling writing style
Eligibility: A candidate must be: A graduate/doctoral/post-doctoral student or  not later than 5 years after the PhD and at a University in Canada; Currently enrolled or affiliated at a university or
college in Canada
Application/selection process/requirements: Contributions should be sent directly to This email address is being protected from spambots. You need JavaScript enabled to view it. by January 30th, 2020. The submission should include an essay 2000-3000 words with a short summary of 450 words and a short CV. The decision will be communicated by February 15th.
Conferring the Award and the Prize: The award will be presented at the March conference  "Challenges to Democracy in a Populist Age".
Adjudicators at University of Victoria (UVic) & European Universities: Robin Celicates, Social Philosophy (Free University Berlin, Germany) Peter A. Kraus,  Political Science, Director of the Institute for Canadian Studies  (University of Augsburg, Germany) David Owen, Social and Political Philosophy (University of Southampton, UK)  Oliver Schmidtke, Political Science and History, Director of the Centre for Global Studies (UVic)  James Tully, Political Science, Law, Indigenous Governance and Philosophy (UVic)Jeremy Webber, Faculty of Law (UVic)