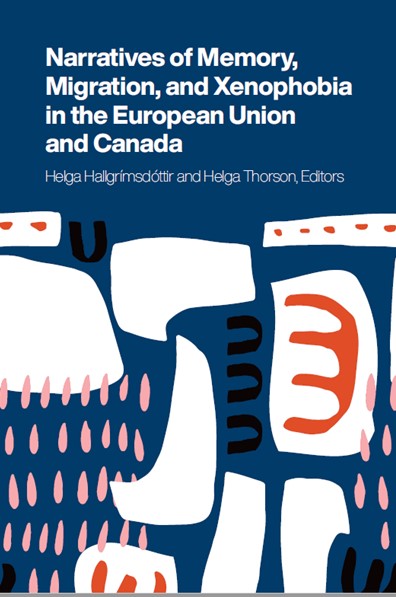 Anti-Immigrant propaganda and the factors that led to its success in Hungary
Barna, Ildikó (2019).  Anti-Immigrant propaganda and the factors that led to its success in Hungary. In H. K. Hallgrímsdóttir & H. Thorson (Eds.)  Narratives of memory, migration, and xenophobia in the European Union and Canada (pp. 53-72). Victoria, BC: University of Victoria Libraries.
By the end of 2014, support for the governing party, Fidesz, fell sharply as various scandals eroded its popularity. While a few months before Fidesz had won 45 percent of the votes in the parliamentary elections, resulting in 67 percent of the seats in the Hungarian National Assembly, by the end of 2014 only 25 percent would have voted for them if the election had been held again.
Fidesz found a quick "solution" to its problems by launching an anti-immigrant campaign. It started on January 11, 2015, when Hungarian Prime Minister, Viktor Orbán, right after the solidarity march in Paris, told a reporter of the Hungarian nationwide public television M1: "We [Hungarians] do not want to see minorities of significant size with different cultural characteristics and backgrounds among us. We want to keep "Hungary as Hungary" (M1 Evening News, 5:51). From that moment, migration became, and has remained the number one political issue in Hungary. The governing party used the tools of propaganda to run its anti-immigrant campaign and connected it to a harsh campaign against human rights NGOs, George Soros, and the European Union.
This chapter focuses on the period between the beginning of the campaign and the April 2018 parliamentary elections. The aim of the chapter is two-fold. On the one hand, it aims at providing an overview of the events of the anti-migrant campaign; on the other hand, it intends to prove that the campaign falls under the realm of classical propaganda.
https://www.eucanet.org/wp-content/uploads/2021/08/thorson_book-2.jpg
597
396
Fazila Mat
https://www.eucanet.org/wp-content/uploads/2021/06/eucanet-logo.svg
Fazila Mat
2019-11-07 22:13:40
2021-10-21 22:26:36
Anti-Immigrant propaganda and the factors that led to its success in Hungary