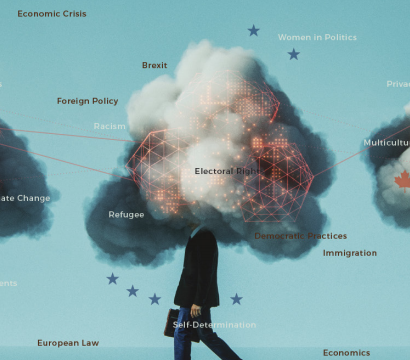 Reflecting on EUCAnet's Busy Year 2019-2020, by Beate Schmidtke
by Beate Schmidtke , EUCAnet Co-Lead
The year 2019-2020 was full of highlights ! Read about EUCAnet's projects in the 2020 report from the Centre for Global Studies  or just read the excerpt from the report here:
"For the Europe-Canada Network (EUCAnet) the past year continues to be one of transition with intense work on completing four Jean Monnet projects co-funded by the Erasmus+ Programme of the European Union and initializing the collaboration for the new Jean Monnet Network at the University of Victoria.
First, during the summer of 2019, an in-house publication on media strategies was made available to EUCAnet's network across Canada. Together with the input of over 20 experts from various Canadian universities, the EUCAnet team published the results of the three-year collaboration on media strategies with academics, university communication officers, and media representatives: "Media Strategies for Scholars in Canada working in the field of EU and European Studies". Shortly after the EUCAnet team published two reports for the Jean Monnet projects (Communication and Media Strategies for EU experts in Canada and Canada Europe Dialogue on Migration (2017-2019). The final reports outline the numerous activities including featured webinars (with in total over 1000 participants), 4 conferences, over 50 media initiatives with links to media alerts, research group databases, video interviews and the blog entries by UVic's students and fellows.
Second, the EUCAnet's Jean Monnet project "Canada Europe Dialogue on Democracy" (CEDoD) focused this year on organizing the second international conference on "Constitutionalism in the Age of Populism" following the success of the previous year's international conference "Democracy and its Futures". Held on March 6-8, only days before the COVID-19 pandemic halted all international travel, the conference brought together international scholars from Poland, Hungary, Australia, Canada, and the UK. The conference was organized in collaboration with the Faculty of Law (supported by a SSHRC conference grant), the Cedar Trees Initiative (CTI) and international partners such as the Eötvös Loránd University (ELTE) and the Research Group "Constitutional Populism: Friend or Foe of Constitutional Democracy" at the University of New South Wales, Sydney. As part of their contribution, the CTI team led a group of graduate students through pre- and post-seminar talks, and collaborated on the video series Democracies and its Futures. Furthermore the project engaged in a range of activities for students and young scholars such as an award for the essay contest on "Populism – a corrective or a threat to democracy?", a blog on issues of democracies and populism associated with a newly established course on Migration and Populism, four policy memos in collaboration with the CTI's COVIDA group. In addition this year, the database of scholars working on issues related to populism and democracy was finalized.
Third, EUCAnet's outreach support project for the European Community Studies Association (ECSA-C) entered its third and final year in collaboration with the Centre for Global Studies and the ECSA-C lead scholars from Carleton University, Dalhousie University, the University of Montreal and the University of British Columbia. This year's activities focused on finalising the database for ECSA-C members, establishing new ECSA-C Research Groups with sections on democracy, migration, environment, foreign policy and trade. It also complemented the outreach activities (video series) for the ECSA-C young scholars by facilitating mentorship collaborations with senior scholars from Europe and Canada and publishing ten policy memos. In addition over 20 young researchers were interviewed on their career paths in the field of European Studies. As the COVID-19 pandemic forced the ECSA-C community to postpone its Biennial leading ECSA-C scholars from Canada and Europe voiced their views on "COVID and the Future of the EU" in a series of over 20 commentaries. Fourth, the EUCAnet team also initialized its outreach initiatives for the new Jean Monnet Network European Memory Politics: Populism, Nationalism and the Challenges to a European Memory Culture (awarded to the University of Victoria by the Erasmus+ Programme of the European Union for the years 2019-2023). The Network is deepening the exchange of scholars on issues of populism and democracy in an international partnership between the University of Victoria, the Institute for Political Studies (IEP) at the University of Strasbourg (France), the Adam Mickiewicz University in Poznań (Poland), and the Eötvös Loránd University (ELTE). The Jean Monnet Network aims at establishing a transnational team of scholars studying the politics of memory, its use in the mobilizing efforts of populist nationalist parties across the continent and the tension to an emerging transnational memory culture in the EU. "
https://www.eucanet.org/wp-content/uploads/2021/01/Screen-Shot-2021-04-28-at-4.27.33-PM.png
360
410
Christian Tautphaeus
https://www.eucanet.org/wp-content/uploads/2021/06/eucanet-logo.svg
Christian Tautphaeus
2021-01-01 03:05:56
2021-11-25 02:45:44
Reflecting on EUCAnet's Busy Year 2019-2020, by Beate Schmidtke