Jean Monnet Network "European Memory Politics" – Workshop in Hamburg
Group Picture by Claudia Höhnle
From Left: Diana Bartha, Francesca Tortorella, Oliver Schmidtke, Beate Schmidtke, Ildikó Barna, Beata Halicka, Piotr Oleksy
Over the weekend of October 22nd to October 24th, the Jean Monnet Network on European Memory Politics met for a three-day workshop to discuss how history, public debates over the past, and contemporary politics in Europe and Canada. Hosted by the Hamburg Institute for Advanced Study (HIAS), the Network brought together scholars and practitioners from Canada, Poland, Hungary and Germany. These experts brought a wealth of knowledge in the fields of history, identity, and contemporary national politics.
The Network had been established two years ago, but because of the pandemic this was the first opportunity for it to officially meet in person. The workshop was therefore also a launch event, serving as an excellent opportunity to establish the goals and future course for the Jean Monnet Network. On top of this broader purpose, it was a great chance to exchange ideas and perspectives on memory politics both within individual counties and at the supranational level.
As Oliver Schmidtke, HIAS Fellow and Professor at the University of Victoria, put it, the group came together over three days to "think about memory politics in terms of how, mostly for the 20th century, how we commemorate the past influences contemporary realities." This led to several engaging and stimulating conversations and produced many valuable insights.
Piotr Oleksy, Professor at Adam Mickiewicz University in Poznań, reflected on some of the differences and disagreements that emerged during the weekend:
What is important is that we have a case of Central European countries or former communist countries like Poland and Hungary and we have the perspective of Germany and France, and we see that memory culture, the question of memory culture, is perceived very differently. For the western European countries the question of European memory culture is something obvious; for poles for Hungarians, it is controversial question, because we see the history and the collective memory as a national phenomenon.
Beata Halicka, also of Adam Mickiewicz University, felt similarly, but she also noted how the workshop helped forge common understandings:
We have realized how much emotion [memory politics] causes in all countries. Not only in Poland or Hungary, but also France or Germany. So it shows us the importance of the discussion…And how complicated it is and how different in one society it can be. And I think it is a very good reason to come together and to understand each other better, and I think that is what we are doing here.
Much of the workshop focused on the concept of identity, on the use of history and narrative to broaden or narrow definitions of national belonging. Oliver, for instance, stressed that "once you redefine memory and identity, you define who the nation is, who belongs." This idea was applied to the cases of all four represented European countries, as each is currently facing its own battle with the past, and over what it means to be part of the nation. Piotr noted this, saying that "a very important conclusion of our discussion, is that the memory divisions that we see in Europe now, they are between the countries but what is more important they are within societies."
Perhaps Oliver summed up the conversation best when he argued:
We are in a critical stage of redefining who we are as a political community, what our basic values are, and it is often in reference to the past. This can take the form of social movements, questioning the legacy of racism and through the black lives matter movement, and a critical revaluation of the colonial past that's happening in Canada. But I can see also the renewed interest in Germany on its short but brutal past with respect to colonial possessions in Africa. But it can also take, and that is my concern, the state of democracy, it can also take the form of an aggressive renationalization of the discourse.
This is only a small sample of what was discussed in Hamburg, at the HIAS. The Jean Monnet Network partners also touched on questions of supranational identity and challenges with modern populist movements.
Ultimately it was a rewarding and successful weekend. If this is any indication of things to come, the Jean Monnet Network on Memory Politics will continue to foster first-rate research and academic exchange. But it will also strive to build engagement with the broader public, taking the conversation out of the ivory tower of the academy and encouraging more teachers, students, and practitioners of all nationalities to provide their own voices on these critical issues.
Picture Credit : Beate Schmidtke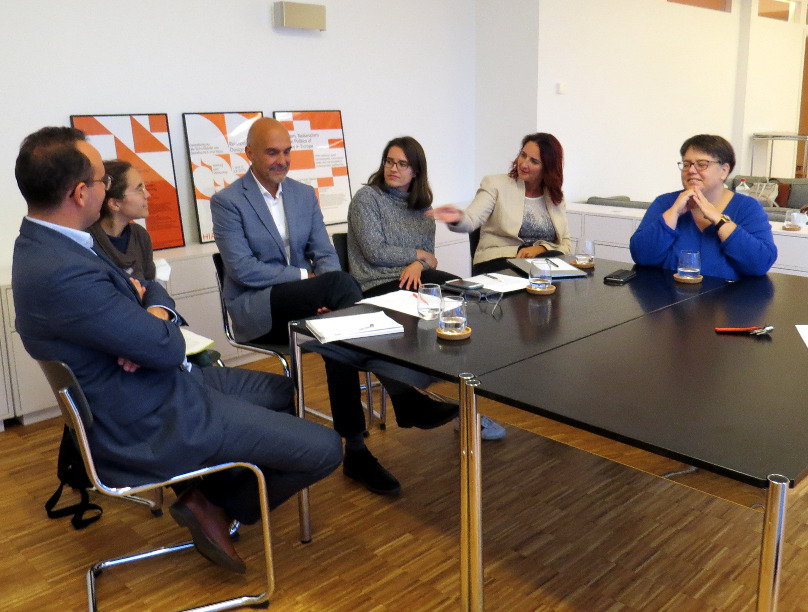 https://www.eucanet.org/wp-content/uploads/2021/10/Screen-Shot-2021-10-30-at-5.19.37-PM.jpg
648
1774
Beate Schmidtke
https://www.eucanet.org/wp-content/uploads/2021/06/eucanet-logo.svg
Beate Schmidtke
2021-10-30 08:23:13
2022-06-25 07:30:02
Jean Monnet Network "European Memory Politics" – Workshop in Hamburg