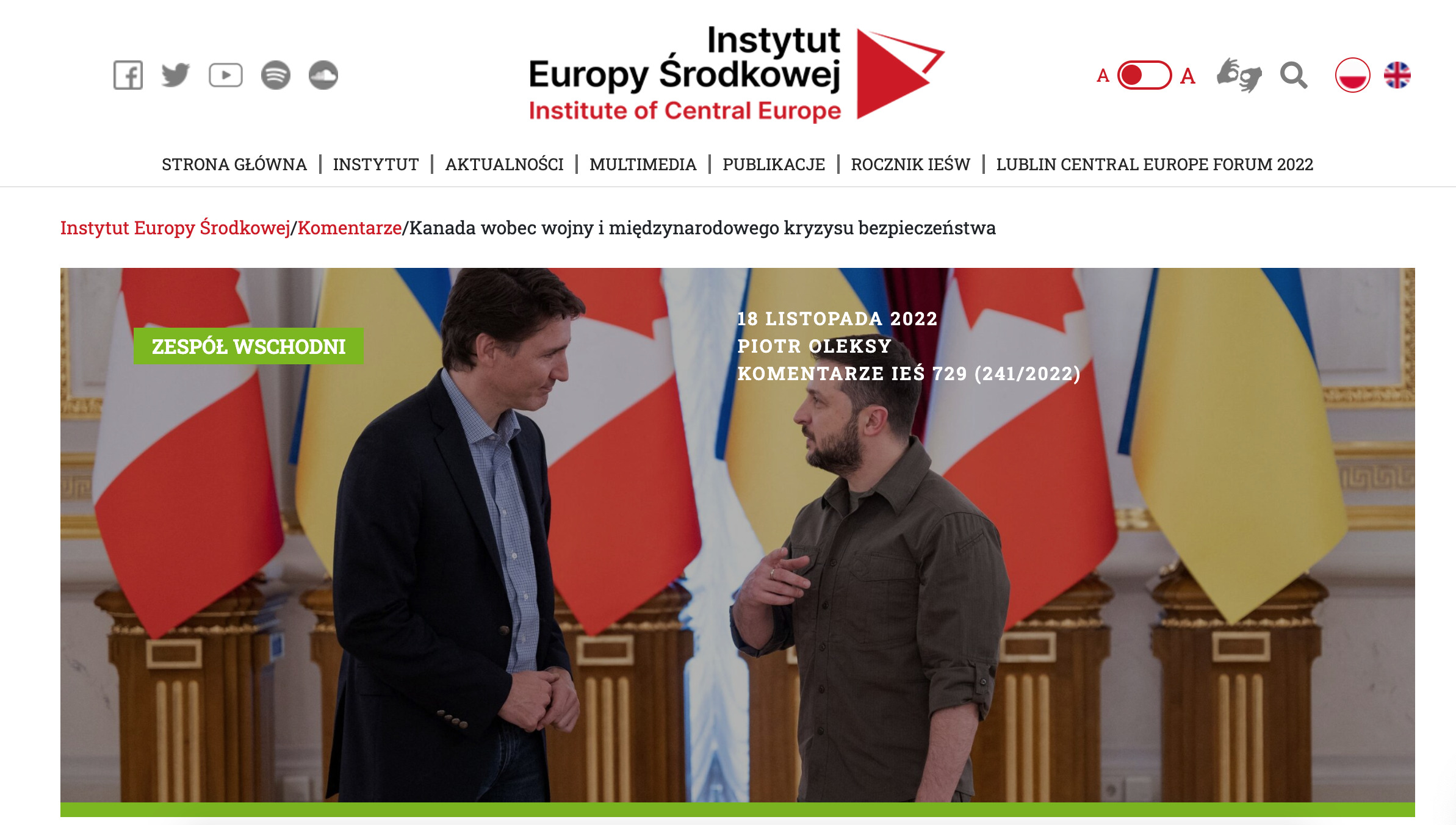 Canada in the face of war and international security crisis – Polish article
Piotr Oleksy, University of Poznan,  wrote an article  on" Canada in the face of war and international security crisis" for the Central Europe Institute  – https://ies.lublin.pl/komentarze/kanada-wobec-wojny-i-miedzynarodowego-kryzysu-bezpieczenstwa/
"Canada is one of the most important actors supporting Ukraine in its defence war against Russia. The current crisis is prompting this country to become more involved in shaping the international order. Increased activity and changes in foreign policy are evident on three levels – military, trade and energy. Increased Canadian activity on the international stage will be a positive development for Ukraine and the entire Central and Eastern European region.
Financial, arms and political support for Ukraine. Canada is in third place among the contributors to Ukraine's budget. According to data from the Ukrainian Ministry of Finance on 4 October 2022, the amount of this support was US$1.521 billion – only the EU (US$2.908 billion) and the US (US$8.49 billion) contributed more. This financial assistance began even before the Russian invasion. In January and February 2022, Canada provided Ukraine with a low-interest loan worth a total of 770 million Canadian dollars (CAD) to support economic reforms and development projects. Already after the invasion began, the Canadian government increased humanitarian spending by CAD 30 million (from 95 million to 125 million). Canada then transferred funds to a special account for Ukraine, managed by the International Monetary Fund (IMF). These totalled w1.2 billion CAD. The final tranche of CAD 348 million, transferred in August 2022, was directed towards the purchase of fuel for the upcoming heating season. Additionally, on 28 October 2022, Prime Minister Justin Trudeau announced the issuance of special Ukraine Sovereignty Bonds. The proceeds will be transferred to the IMF for payments to Ukrainian pensioners and the purchase of heating fuel.
Canadian support for the Ukrainian military was also in place even before the Russian invasion. On 14 February 2022, the first tranche of offensive weapons, worth CAD 7.8 million, was handed over. This package included pistols, rifles and ammunition. In the months that followed, the scale of this assistance increased significantly, with CAD 500 million committed in April 2022 and a further CAD 47 million in October. Equipment donated included parts for M777 howitzers, lightly armoured LAVs and uniforms and winter gear. A training programme for the Ukrainian army, jointly implemented with the UK on its territory, was also resumed. The transfer of a further CAD 500 billion to support the Ukrainian army was announced by Prime Minister Justin Trudeau on 14 November 2022.
Canada also unequivocally supports Ukraine internationally, advocating a tough policy towards Russia and the imposition of sanctions on the country. These actions were already clearly evident after 2014. In contrast, after the Russian invasion in February 2022. Canada was the first to revoke the MFN clause for Russia and Belarus, which resulted in the imposition of tariffs of 35% on imports from these countries. Canada joined in with economic, banking and personnel sanctions, as well as a ban on ship berthing and airspace closures for airlines. Russian oil imports have also been banned. In recent weeks, Canada has been regularly expanding the list of individuals and entities subject to sanctions: at the end of October, 35 individuals on the board of Russian energy companies, including Gazprom and Gazprom group companies, and six Russian energy sector companies were included, and on 14 November, a further 23 individuals associated with the Russian judiciary, prosecution, police, prisons and law enforcement agencies were included.
Development of defence capabilities. In April 2022. Canada increased its annual defence budget by CAD 8 billion. As a proportion of GDP, this represents an increase in spending from 1.3% to 1.5%. There is increasing talk of the need to reach the 2% of GDP threshold required by NATO. The largest investment has been directed towards the development of the North American NORAD airspace defence system, implemented jointly with the US. Second on the list of priorities is the navy. The government and military command are paying increasing attention to the threat to sovereignty in the Arctic caused by provocative actions by Russia and China. Investment in aviation and the navy is presented as support for NATO's capabilities on the northern flank, which is a priority for Canada. However, the country's engagement on the eastern flank has also increased. In 2016. Canada became the framework country for a multinational battle group in Latvia, where some 570 Canadian troops were deployed. In March 2022, this contingent was increased by a further 460 soldiers. A further increase to brigade level (3,000-5,000 troops) is announced. In June 2022, two Canadian frigates were deployed for exercises in the Atlantic Ocean and the Baltic Sea.
The Freeland Doctrine. A marked change in approach to international trade was announced by Chrystia Freeland, Deputy Prime Minister and Minister of Finance, during a lecture at the Brookings Institution in Washington (11.10.2022). Her concept, referred to by the media as the 'Freeland Doctrine', starts from the premise that free trade and the rise of interdependence can no longer be seen as a guarantor of stability in international relations. This implies a break with previous policies. The new approach, according to Freeland, should be based on three pillars: closer trade and investment cooperation between democratic states and allies, an openness to trade relations with countries that 'share our values', and a clear opposition to aggressive authoritarian states. In this way, Canada wants to strengthen the unity of the West, in the trade area proposing a move towards so-called friend-shoring, i.e. strengthening trade and investment relations among friendly countries, especially in sensitive and strategic areas.
In recent weeks, public opinion has been shaken by news of attempts by China to interfere in the Canadian electoral process. The government has announced a change in policy towards this country, hitherto characterised by openness. Canada now wants to make a determined effort to limit China's influence in the world. The new strategy towards the Indo-Pacific region – announced by Foreign Minister Mélanie Joly on 9 November 2022. – clearly identifies China as an economic and military threat to the region (Joly also announced closer cooperation with Japan, New Zealand, South Korea and India).
Energy potential. Canada's oil reserves are estimated at 173.2 billion barrels. This places Canada third among countries with these reserves (after Venezuela and Saudi Arabia). Producing 4.6 million barrels per day in 2021, the country ranks as the fifth largest oil producer. Natural gas reserves there, meanwhile, are estimated at 2 trillion cubic metres, or about 1% of the world's total. Among gas producers, Canada is ranked sixth. The oil and mining sector generates about 9.5% of the national GDP.
The ruling Liberal Party of Canada has tried in recent years to reconcile further development of the mining and oil sector with the desire to reduce CO2 emissions (declared to be reduced by 40% by 2035). The fight against global warming is one of the most important ideas in the rhetoric of this grouping. In previous years, oil production and exports have been curtailed – in 2020, production fell by as much as 175,000 barrels per day, the lowest production level in 50 years (this was also linked to a drop in demand during the pandemic). However, immediately after the Russian invasion of Ukraine, the Canadian government announced an increase in oil and gas exports – the former by 200,000 barrels per day, the latter by 100,000. The government had already announced a 22% increase in investment in the energy sector for the end of 2021.
It should be noted that Canada's oil fields are in the form of tar sands – diesel production is more costly and energy-intensive in this case. Furthermore, the ability to support allies in an energy crisis is limited due to the nature of the pipeline network – Canadian production is primarily directed to the US market. The construction of new gas and oil pipelines, on the other hand, is met with protests from environmentalists and First Nations (Indigenous peoples) managing the lands through which these installations would pass.
Conclusions. Canadian support for Ukraine is conditioned by a commitment to Western unity and the defence of democratic values. The large and influential group of Canadians of Ukrainian origin (almost 1.5 million people in a population of 38 million) plays a large role in this. The scale of this support can be expected to grow, and Canada will also be one of Ukraine's most important 'advocates' on the international stage.
The Russian invasion of Ukraine and the resulting security crisis has sparked discussion in Canada about the need for greater engagement in international affairs. There is a growing public perception that Canada is 'playing below its capabilities' as a G7 member and NATO founding country. This has resulted in increased defence spending. Of priority and long-term importance to Canada are the Arctic and the Indo-Pacific region. Central and Eastern Europe attract attention mainly because of its commitment to the Ukraine issue and the need to curb Russia's aggressive and imperial policies. However, Canada's increased activity on the international stage will help maintain Western unity and contain Russia. The countries of Central and Eastern Europe may thus gain an important ally.
Greater use of Canada's resource potential would reduce the costs of curtailing and disrupting oil and gas supplies from Russia. However, it should not be assumed that this will be a revolutionizing factor in the energy market. Opportunities to dramatically increase Canadian oil and gas exports are limited by infrastructural factors. Internal political dynamics are also not conducive to them. The Liberal Party of Canada, led by Justin Trudeau, faces a dilemma in which it has to choose between a policy of reconciliation with First Nations and environmentalism (which has become the party's brand and Canada's image in the world) and the opportunity to make money and the need to support allies internationally."
[Photo: Canadian Prime Minister Justin Trudeau meeting with Ukrainian President Volodymyr Zelenski during a visit to the Ukrainian capital, Kiev, 8 May 2022 / ABACA / Abaca Press / Forum].
Translated with www.DeepL.com/Translator (free version)
https://www.eucanet.org/wp-content/uploads/2022/11/Screen-Shot-2022-11-21-at-3.24.43-PM.jpg
1352
2386
Beate Schmidtke
https://www.eucanet.org/wp-content/uploads/2021/06/eucanet-logo.svg
Beate Schmidtke
2022-11-21 15:31:23
2022-11-21 15:33:31
Canada in the face of war and international security crisis – Polish article