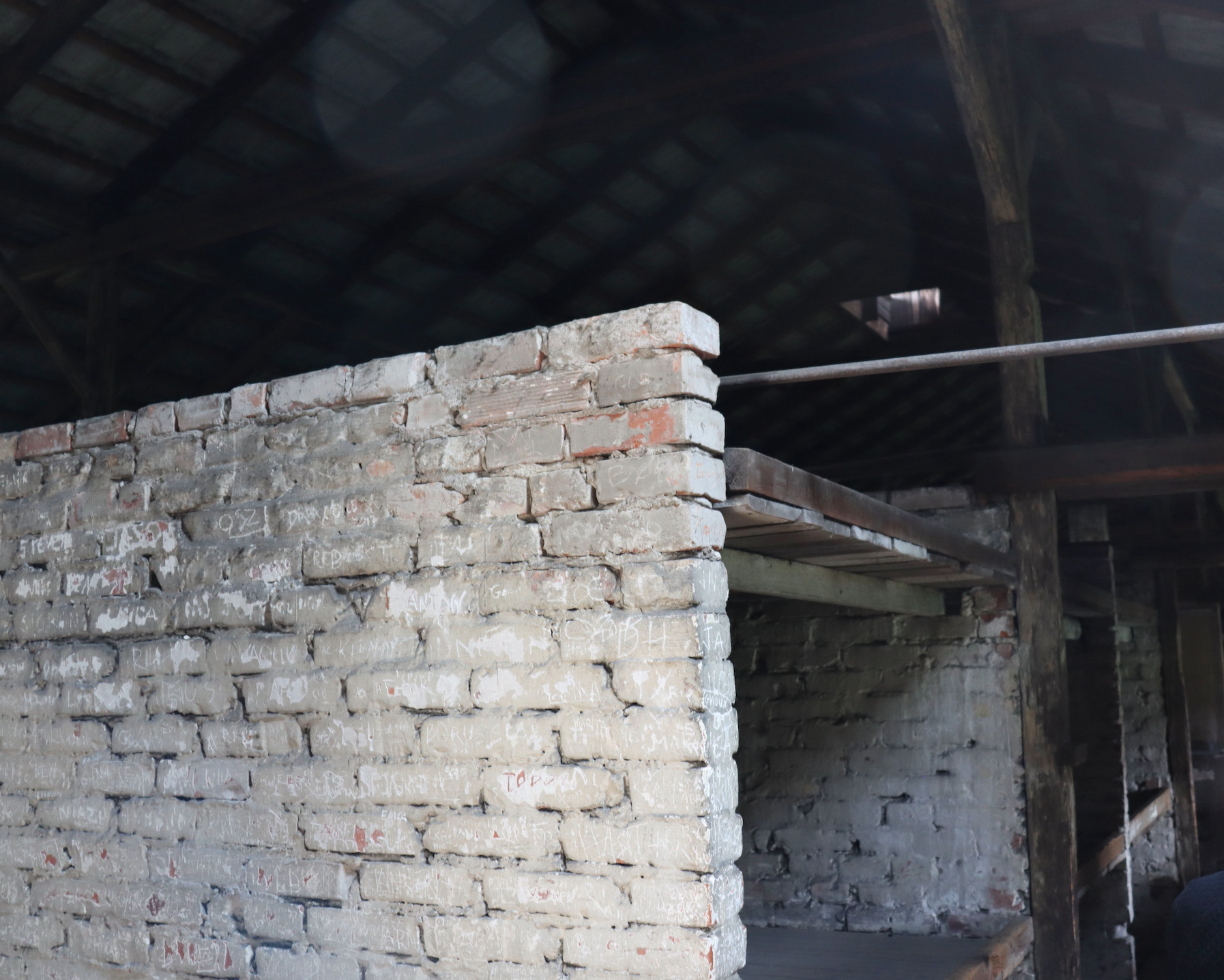 Processing Auschwitz through Photographs
I recently visited the Auschwitz-Birkenau State Museum as part of the 2023 European Memory Politics Study Tour. This experience was significant for me, as I have spent years studying the Holocaust and listening to the words of survivors, many of whom who were imprisoned at Auschwitz. Visiting Auschwitz-I and Auschwitz-II Birkenau helped me gain an even deeper understanding of what life was like for prisoners of the camp and the grotesque extent of Nazi atrocities. However, although viewing the Auschwitz camp complex with my own eyes was incredibly impactful, it was an activity in a post-tour debrief involving photographs of the memorial that helped me reflect on what I witnessed.
Our visit to the memorial took place over two days. First, we were given a 4-hour tour of Auschwitz-I, also known as the Main Camp, by one of the memorial's licensed guides (pictured below). The following day, our guide took us on a 4-hour tour of Birkenau. Visiting each site was a harrowing and profound experience, and, as you might imagine, emotionally exhausting. For this reason, after each tour, study tour participants engaged in a debrief to unpack what we learned – and felt – over the course of the day.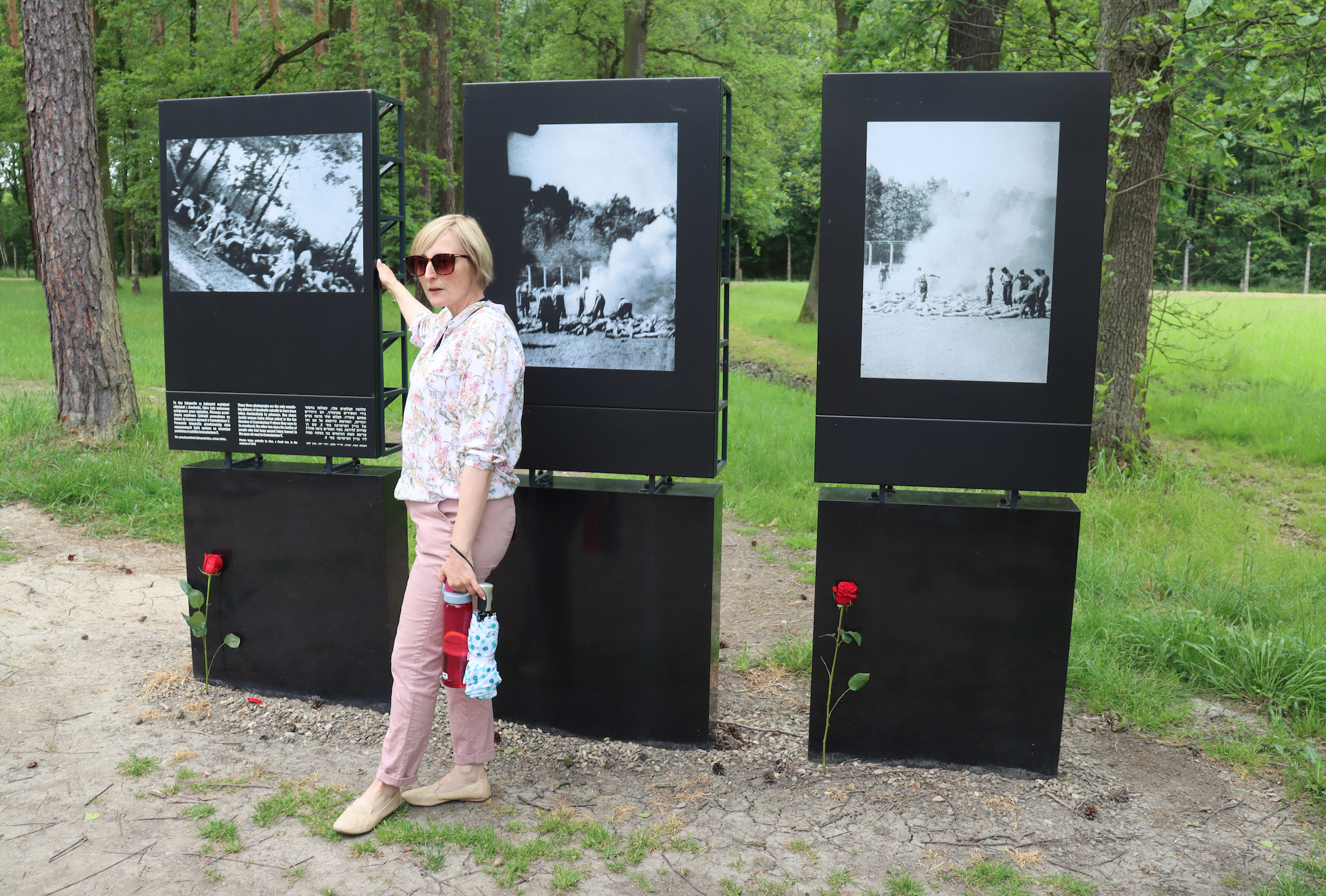 If I am being honest, the last thing I wanted to do after a 4-hour tour of Auschwitz-I and Birkenau was reflect on how I felt in a group setting. I prefer to examine my thoughts on my own. However, these reflection sessions ended up being more useful than I imagined, and the session after our time at Birkenau in particular was unexpectedly productive. During this debrief, one of our instructors, Janine Wulz, scattered various photographs of Auschwitz-I and Birkenau across the room. Participants were prompted to choose a photograph that resonated with us and share our thoughts with each other before taking a few minutes to record our reflections in our journals or on the back of the photo.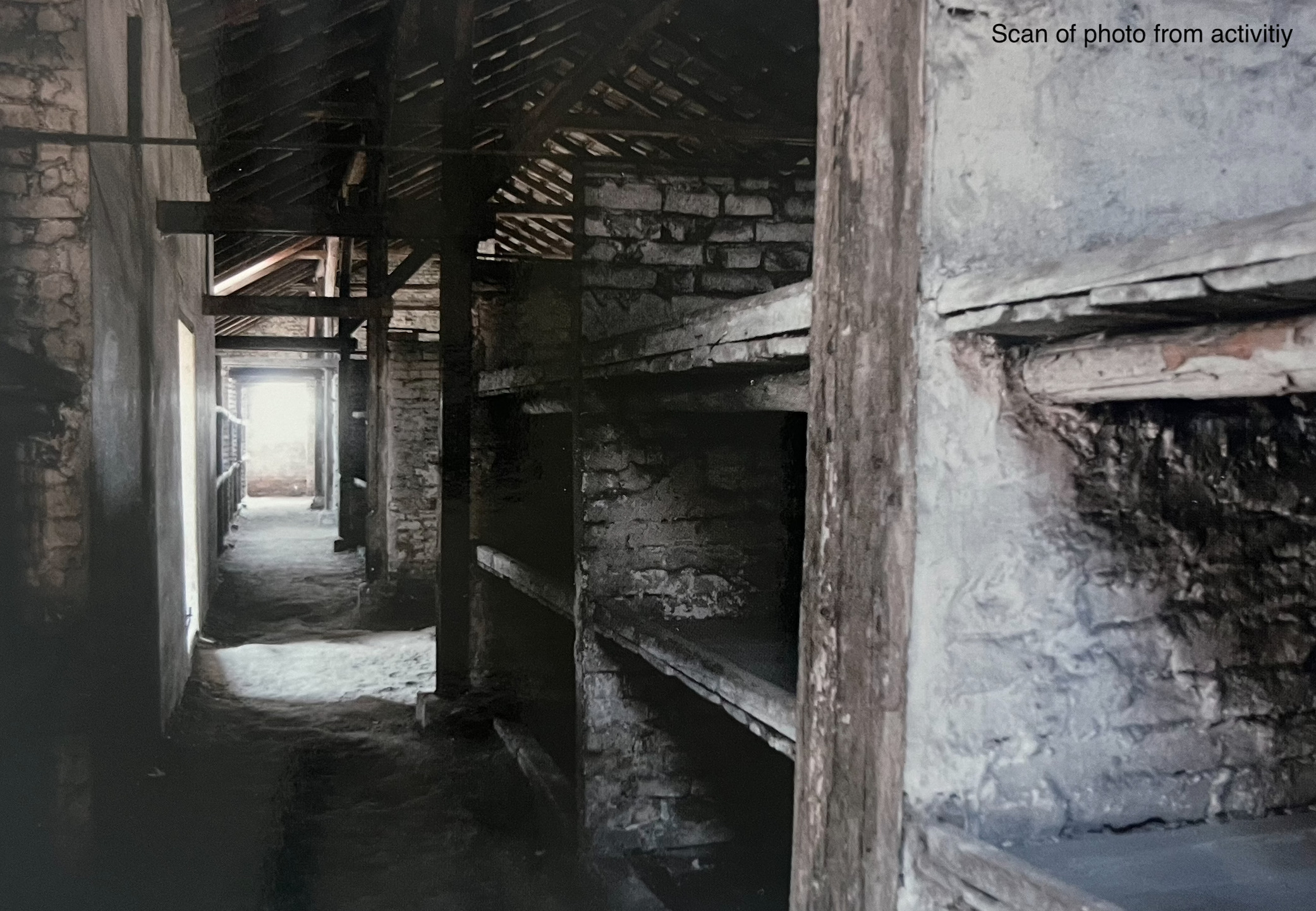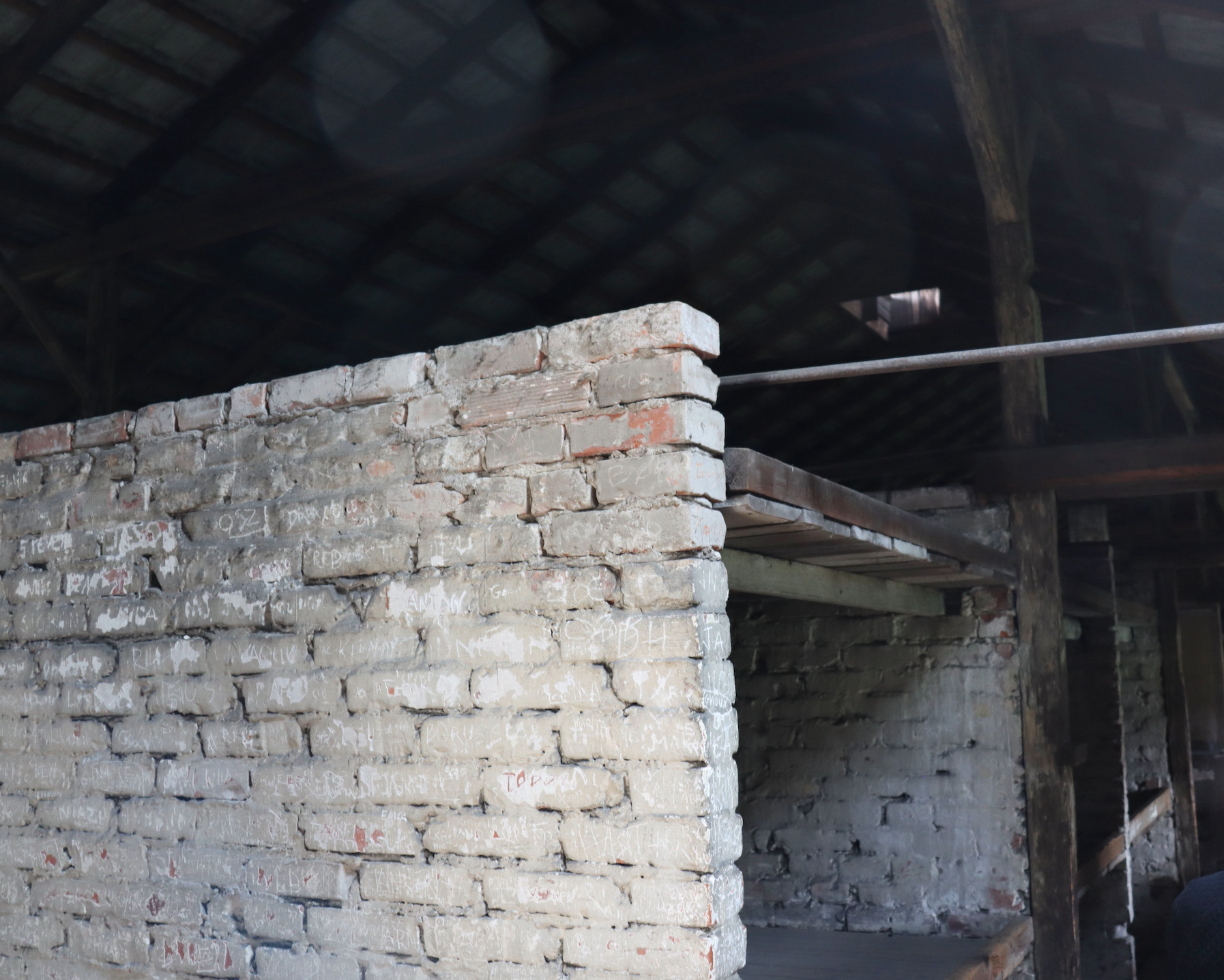 The photograph I chose features the interior of a prisoner barracks. I chose this image because I was so disturbed by the amount of vandalism I saw in the barracks at Birkenau – particularly in the children's barracks. My photo above shows some of the damage caused to the barracks, but you can get a better view from the memorial's panorama camera here [https://panorama.auschwitz.org/tour2,2886,en.html]. In contrast, the barracks in the photograph I chose are seemingly free from vandalism. The difference prompted me to think about how the site has changed since the Auschwitz-Birkenau State Museum was established in 1947 – both in terms of vandalism, and maintenance and upkeep– and how it will continue to change over time. If preservation is the goal, how do we reconcile these changes, especially those that are a result of vandalism? I asked our guide how the memorial handles such changes, and she told me it was an ongoing challenge. In fact, she said, two days prior to our visit, latrines in one of the sanitary buildings at Birkenau were intentionally damaged by visitors. As a result, the building was temporarily closed. The question of why one causes damage to a Holocaust memorial is beyond the scope of this blog post, but this example demonstrates the fragility of the memorial nearly 80 after liberation. Our guide, who has led tours of the memorial for 16 years, has witnessed such changes to the memorial with her own eyes. Yet, for those of us who are unable to visit Auschwitz regularly, photographs help visualize these shifts and allow us to consider how they impact our ability to bear witness.
The photo I chose during the activity in our debrief sparked many thoughts, and I was so inspired that I used the photo sets of Auschwitz-I and Auschwitz II-Birkenau that I purchased at the memorial's bookstore earlier that day to create my own version of the activity. Each photo set features 10 photos taken at each site. The day after our visit, when the experience was fresh in my mind, I analyzed the photographs before writing a brief reflection on the back of each one.
I have always been interested in photography, and before visiting Auschwitz, I grappled with what to do with the photos I would take at the site. I am currently developing teaching resources that feature my photos and have a few other ideas about how to use these images to educate others about Auschwitz particular, and the Holocaust more generally. The activity from our debrief is significant because it demonstrates how photographs can be used to not only educate, but also reflect on one's own time at sites of memory. I recently returned from Europe and printed the photos I took during my time at Auschwitz. A month has now passed, and I am intrigued to see how my reflections on this experience have evolved.
Kästle Van Der Meer graduated from the University of Victoria's History MA program in November 2022. Her thesis research under the supervision of Dr. Kristin Semmens investigated Jewish resistance to sexualized violence in Nazi forced labour, concentration, and death camps. Reflecting her BA in Gender Studies and History, Kästle's other research interests include gender and sexuality in the Holocaust. Kästle currently works an instructor in the Academic and Technical Writing program at UVic.
https://www.eucanet.org/wp-content/uploads/2023/07/Screen-Shot-2023-07-18-at-1.00.27-PM.jpg
1436
1794
Beate Schmidtke
https://www.eucanet.org/wp-content/uploads/2021/06/eucanet-logo.svg
Beate Schmidtke
2023-06-08 03:27:51
2023-07-18 04:08:44
Processing Auschwitz through Photographs