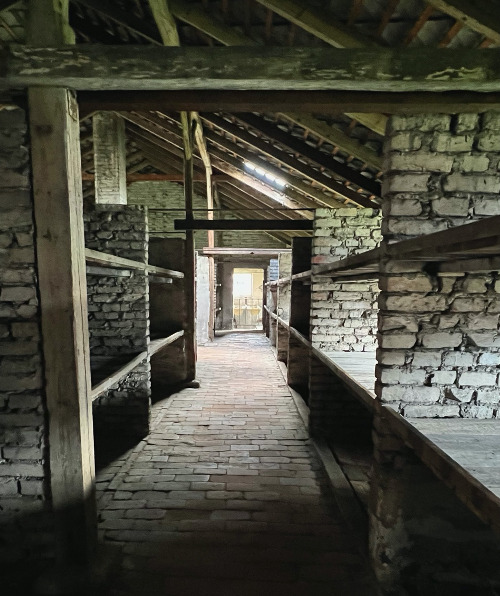 On June 7th, our group of undergraduate and graduate students visited the memorial and museum Auschwitz I. Auschwitz I began as a single concentration camp in Oświęcim from 1940-1944 to later grow to over 40 sub-camps focused on the collective goal of extracting as much labour out of their prisoners as humanly possible until they ultimately perished. Our tour guide's name was Agnieszka Wojtowicz and has been giving tours of Auschwitz I and Auschwitz II-Birkenau for 16 years. Her expertise and knowledge of both sites was evident in the level of detail she provided throughout the visit and led to an experience that will stay with me for the rest of my life.
As an English student, my background regarding Nazi Germany and the Holocaust wasn't as extensive as others before the start of the study tour in memory politics and I'm partially grateful for that; it allowed me a unique perspective while absorbing the gruesome and heartbreaking details of mass murder and because of this elicited a deeply emotional response. Walking the grounds of what Agnieszka described as a "mass graveyard," I was struck by the heavy and sickening feeling that settled in my chest and refused to leave until long after our tour's end. This feeling grew heavier and heavier until it reached a fever-pitch when we reached the Yad Vashem exhibit. This exhibit included a walk through a room whereupon the walls were recreations of pencil-drawn children's drawings from the war period. What startled me the most was the stark contrast between drawings of animals and family that represented (for me) the peace and comfort children sought during a time of mass destruction and depictions of the war, specifically a drawing of the selection process.
As a 22 year old, it was haunting to listen to Agnieszka explain the selection process, so the thought of a child just coming into their own consciousness enough to comprehend the meaning of this process ripped my heart in two. I was brought incredibly close to tears not only walking and seeing the tiny drawings, but also hearing the children's voices echo throughout the room; the juxtaposition of the at times joyful calls bouncing off the walls and the drawings of war and violence was almost too much to bear. And although the heavy emotions I experienced throughout the tour of Auschwitz caught me off guard, I wouldn't trade this opportunity for anything.
Vanessa Wheaton is a 5th-year undergraduate student in the Department of Humanities majoring in English at the University of Victoria. Her research interests are focused upon studying biblical allusions within diverse literary works alongside 20th century American post-modern literature.
https://www.eucanet.org/wp-content/uploads/2023/06/Screen-Shot-2023-06-12-at-1.13.43-PM.jpg
596
500
Beate Schmidtke
https://www.eucanet.org/wp-content/uploads/2021/06/eucanet-logo.svg
Beate Schmidtke
2023-06-08 06:57:32
2023-07-03 13:52:11
Overwhelmed in Auschwitz