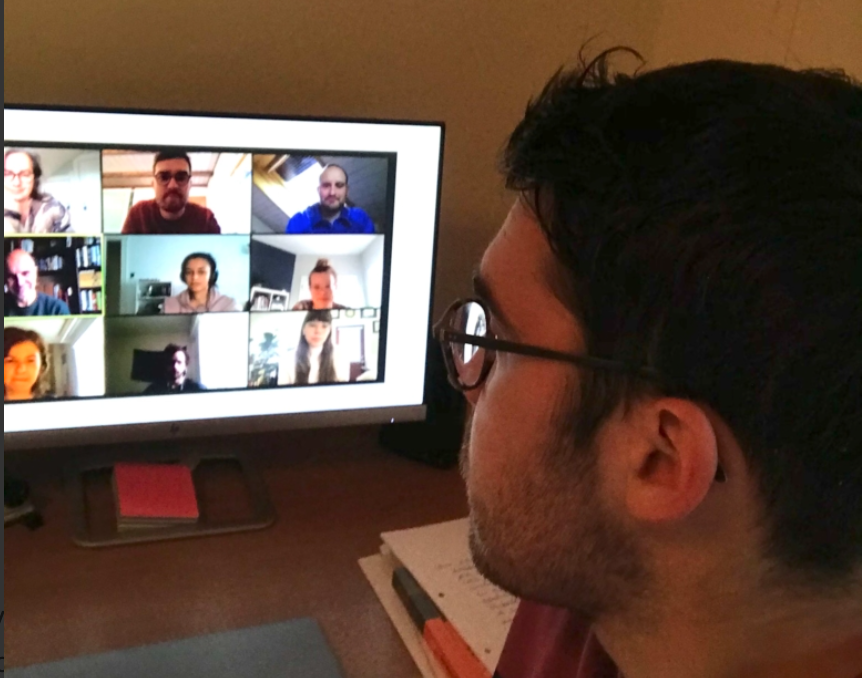 An Internship under Special Conditions, by Niklas Lehmann, Germany
By Niklas Lehmann, Intern (February to April 2021)
I was given the opportunity by my home university in Germany to spend three months of my studies as an intern at the University of Victoria in Canada. More specifically, I was allowed to join the EUCAnet project group under the Co-leads Professor Dr. Oliver Schmidtke and Beate Schmidtke.
Of course, I was very excited to visit one of the most attractive travel destinations for Europeans. Canada – beautiful landscapes, an interesting mix of cultures and one of the most advanced countries in the world – would have awaited me on the other side of the world. However, my internship was all planned before the Covid-pandemic changed things dramatically. Like for many others, the pandemic made an entry to Canada at that point simply impossible for me. The pandemic reached its peak and the Canadian government imposed a travel ban for non-citizens.
Kind of disappointed but understandably I had to accept the situation as it was. Fortunately, Mr. Schmidtke then offered me the opportunity to work remotely. At first, I couldn't imagine much about it. How is that supposed to work? The time difference (9 hours!) and getting to know my new virtual colleagues only via digital mediums and video conferences seemed difficult at first glance.
Yet, as it turned out, it was one of the best professional experiences I have ever made:
I received a warm welcome to the EUCAnet team right away in February. Through the meetings that took place several times a week, we quickly got to know each other. We not only talked about work, but also about private things what helped me to integrate into the team and led to a pleasant working atmosphere too. Especially the young multicultural team, consisting also of other Canadian working students, made it easy for me to catch up with the project. Furthermore, they supported me with anything I did not understand when it comes to the university's (online) bureaucracy or they taught me in the project's database system.
One highlight for me was definitely the design and creation of a completely new website for the EUCAnet network. Before we got started with the design, we did a lot of research on how modern website are built and databases are integrated into the website. Our supervisors then gave us a lot of freedom in how we built and designed the site. Since our ideas were also adopted in this way, we felt that our work was appreciated and had a real impact on how the project progressed. Migrating all files and important documents from the old to the new website was probably our biggest challenge because this task required a particularly good team management. Tasks were divided, then had to be reviewed and finally all files had to be transferred without any losses. Additionally, through working with professional web developers, we learned a lot of new skills in the field of web design and databases. Without doubt – these skills and experiences are likely to be very useful for my professional future!
Although it seems difficult at first to get an insight into the Canadian culture and society just by working from home, we also used our meetings to socialise from time to time. In the project group, we talked for example about university and campus life in Canada or the meaning of social media and how it differs from Germany and other parts of Europe. Everybody brought his/her own experience to the (virtual) table. It was much fun to notice different cultural behaviours and practices comparing the European and North American contexts.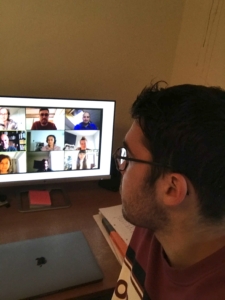 I even had the chance to gain intercultural experience through an online internship, which was indeed one of the main intentions of this professional experience. Furthermore, the Centre for Global Studies offered many online opportunities such as the weekly CFGS Global Talks, online events or resources to stay informed during the pandemic. In addition, EUCAnet's scholarly network with its focus on memory politics continued to host interesting webinars and meetings with scholars from Canada and Europe (France, Germany, Hungary and Poland). These events allowed me to witness how academic international collaboration works. In particular the discussions in regards to how we remember and commemorate the past from different national context taught me about the importance of these forums and international comparative perspectives.
In the end, I felt fortunate to meet so many nice people through this internship. Even though we worked remotely and under such difficult conditions, I really enjoyed working in our project team. Besides improving my English language skills and having the experience of working in a completely different work culture, I was also able to apply and acquire new skills in the field of web design. Being part of the website's developer team makes me a little proud.
Now, I am excited for the final release of the new website.
I surely look forward to visiting Victoria at another time. That's for sure!
I would like to thank the EUCAnet Team and the CFGS of the University of Victoria for this opportunity.
— Niklas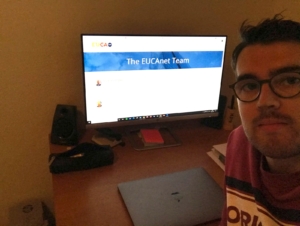 About the author: Niklas Lehmann (MA Student, Intern – Spring 2021) joined the CFGS through an international internship program. As an international student from Germany, his work at the University of Victoria focused on the EUCAnet and CGFS projects. He holds a Bachelor degree in Business Administration and Engineering (2019) and is now concentrating on a more international level in the master's program "European Public Administration". His major field of interests are international business and administration, technical and legal developments in the field of artificial intelligence, cross-border-cooperation between Germany and France as well as intercultural relations especially between Europe and Canada/USA. 
https://www.eucanet.org/wp-content/uploads/2021/05/Screen-Shot-2021-05-11-at-4.46.56-PM.png
678
862
Laurence Claussen
https://www.eucanet.org/wp-content/uploads/2021/06/eucanet-logo.svg
Laurence Claussen
2021-06-20 14:00:06
2021-09-22 11:14:03
An Internship under Special Conditions, by Niklas Lehmann, Germany