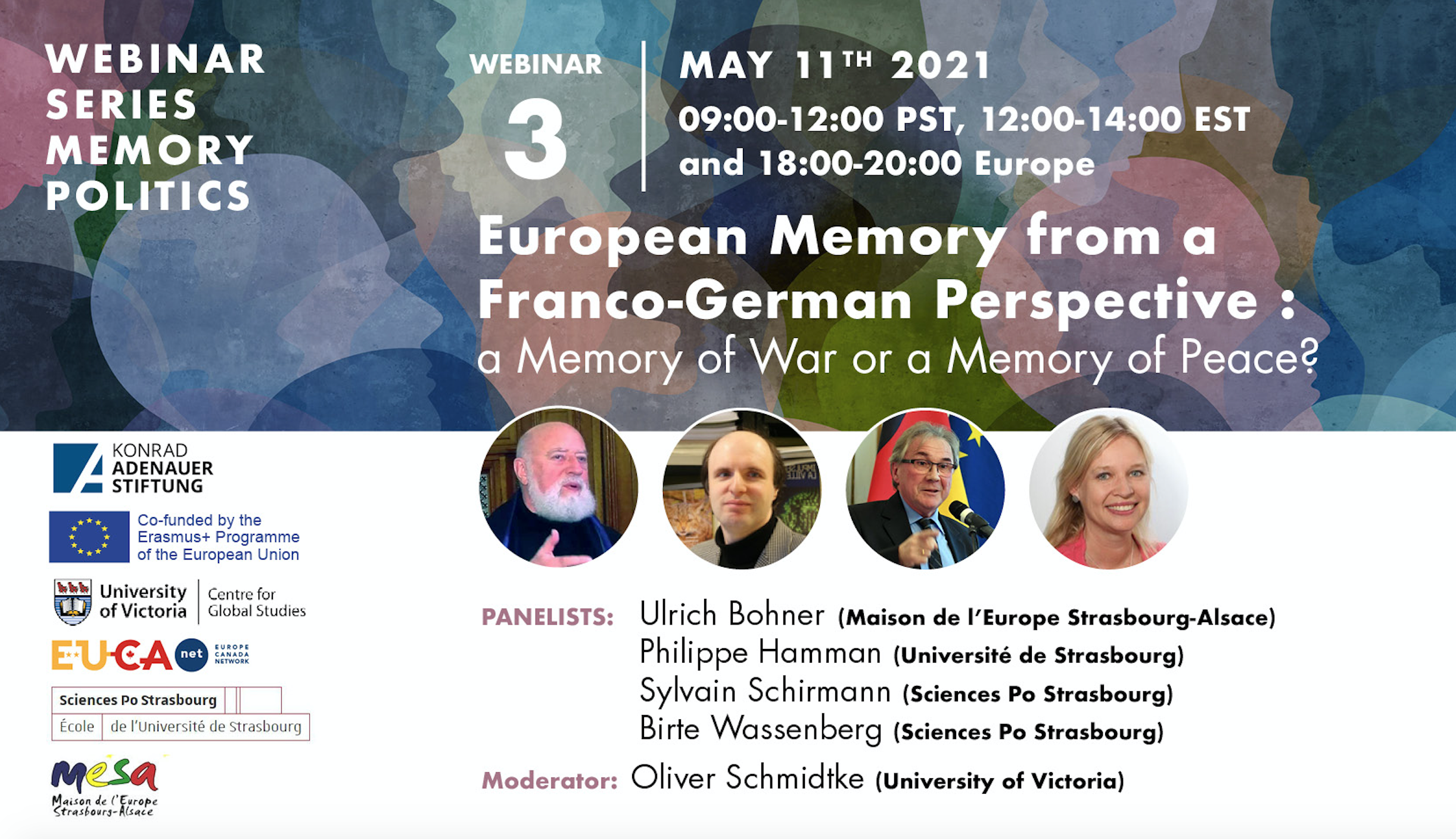 Webinar: European Memory from a Franco-German Perspective: a Memory of War or a Memory of Peace? (in French)
WHEN: Tuesday, May11th, 2021 TIME: 9:00am-11:00am (PST)
DETAILS: What meaning does memory politics have in contemporary Europe? How do we understand collective memory in particular with respect to an emerging European memory culture? These questions are at the heart of this webinar. A first roundtable will address these issues in form of an interview and explore the complex links between memory, identity, history and politics in Europe.
A second roundtable focuses on the memory of peace and on the tri-national space of the Upper Rhine, based on a study that combines the complementary points of view of a historian and a sociologist: Mémoire d'Europe – Mémoire de paix. Témoignages de la région frontalière d'Alsace. The webinar is held in French.
Panelists:
Ulrich c (Maison de l'Europe Strasbourg-Alsace)
Philippe Hamman (Université de Strasbourg)
Sylvain Schirmann (Sciences Po Strasbourg)
Birte Wassenberg (Sciences Po Strasbourg);
Introduction Oliver Schmidtke (University of Victoria).
Moderator: Francesca Tortorella (Sciences Po Strasbourg).
This event is hosted by the EuMePo Jean Monnet Network, the Europe Canada Network (EUCAnet), and the Centre for Global Studies, with support from the Konrad Adenauer Foundation and the Erasmus+ Programme of the European Union.
https://www.eucanet.org/wp-content/uploads/2021/05/Screen-Shot-2021-05-11-at-4.34.50-PM.png
1408
2444
Fazila Mat
https://www.eucanet.org/wp-content/uploads/2021/06/eucanet-logo.svg
Fazila Mat
2021-05-11 21:00:46
2021-08-06 09:05:23
Webinar: European Memory from a Franco-German Perspective: a Memory of War or a Memory of Peace? (in French)