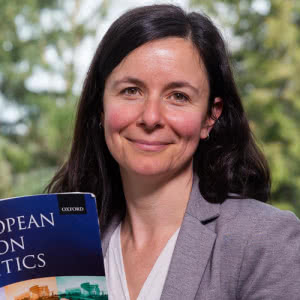 Dr. Valerie D'Erman on her interests in EU policies and trade
Valerie D'Erman is a sessional instructor in Political Science at the University of Victoria. She is an active board member of the European Community Studies Association in Canada (ECSA-C) and accepted to participate in the interview series with young scholars on their expertise in EU and European Studies.The European Union presents a very unique opportunity for political scientists and economists to examine the workings of an extremely complex and robust international trade block. Valerie's research contributes to various aspects of the EU Canada related trade issues; she has already an extensive experience with various EU related projects and media engagements .
What attracted you to the field of European Studies/ fascinated you about the EU?
I have relatives that work/worked directly in the EU institutions in both Brussels and Luxembourg, and their jobs always fascinated me. Because of that, I took an undergraduate course in EU studies, and then maintained an interest that stayed with me after graduating. When I eventually decided to go to graduate school, my initial interest was very broad within the field of international relations but I knew I wanted the case study focus to be on European countries. Ultimately I had excellent professors and the advantage of a dedicated EU centre that shaped the rest of my research focus.
What is the most important issue to be addressed in your research?
I don't know about 'important', but the most perennially interesting aspect to me is the constant tension between authority and sovereignty between the domestic level of governance and the supranational level of governance. Not only the challenges and resolutions within those tensions, but also how that tension is always shifting and changing and waxing and waning in different places according to the events of the time. More specifically, a practical important issue is how certain key EU policies might endure over time. One of my main research interests is on external trade; this has long been seen as an early success of European market integration, but that doesn't mean it can't be undone or challenged as anything else could. I am particularly interested in how the politics and framing of trade policies are composed in different places.
Valerie D'Erman is a a postdoctoral researcher at the University of Victoria in the Department of Political Science. She has published in International Politics, the Journal of Homeland Security and Emergency Management, and contributed to a co-authored book titled "Protecting Our Ports: Domestic and International Politics of Containerized Freight Security," in 2010 with Ashgate Press. Her dissertation, "The Europeanization of Industrial Relations in Ireland and Italy," was successfully defended in December 2012.
https://www.eucanet.org/wp-content/uploads/2020/04/VDE.jpg
300
300
Laurence Claussen
https://www.eucanet.org/wp-content/uploads/2021/06/eucanet-logo.svg
Laurence Claussen
2020-04-13 01:44:22
2021-07-26 16:51:26
Dr. Valerie D'Erman on her interests in EU policies and trade