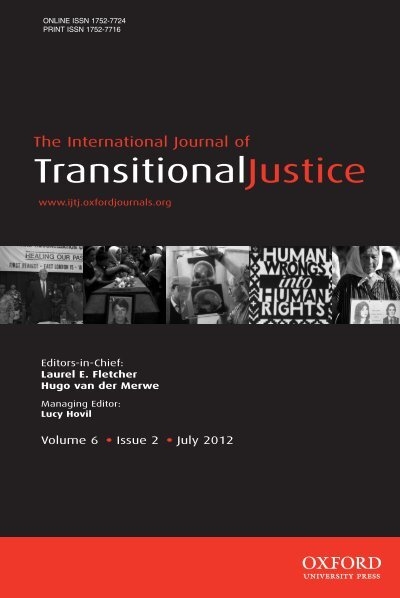 A Carnival of Truth? Knowledge, Ignorance and the Canadian Truth and Reconciliation Commission
James, Matt (2012).
A carnival of truth? knowledge, ignorance and the canadian truth and reconciliation commission.
The International Journal of Transitional Justice 6
(2): 182-204.
This article examines the ongoing work of the Canadian Truth and Reconciliation Commission (TRC), which is charged with addressing that country's past policy of attempting forcibly to assimilate indigenous children in residential schools. It examines the TRC's mandate and its activities while assessing the Commission's conceptions of truth and reconciliation by placing these ideas in their societal context and explaining how they appear to have been produced. As the article shows, these conceptions reflect the prior struggles of victims against particular Canadian forms of indifference and denial, struggles that have led the TRC to take what recent literature calls a 'victim-centred' and, following Mikhail Bakhtin and Teresa Phelps, 'carnivalesque' approach. Despite the TRC's impressive strengths, the author argues that its approach unfortunately fosters the absence of a more detailed and accountability-promoting examination of the agents and institutions responsible for the injustices. Ultimately, this article is about the underlying sociology of knowledge production that shapes the Canadian TRC.
https://www.eucanet.org/wp-content/uploads/2021/08/james_article-3.jpg
598
400
Laurence Claussen
https://www.eucanet.org/wp-content/uploads/2021/06/eucanet-logo.svg
Laurence Claussen
2012-08-03 04:04:00
2021-09-17 11:53:14
A Carnival of Truth? Knowledge, Ignorance and the Canadian Truth and Reconciliation Commission