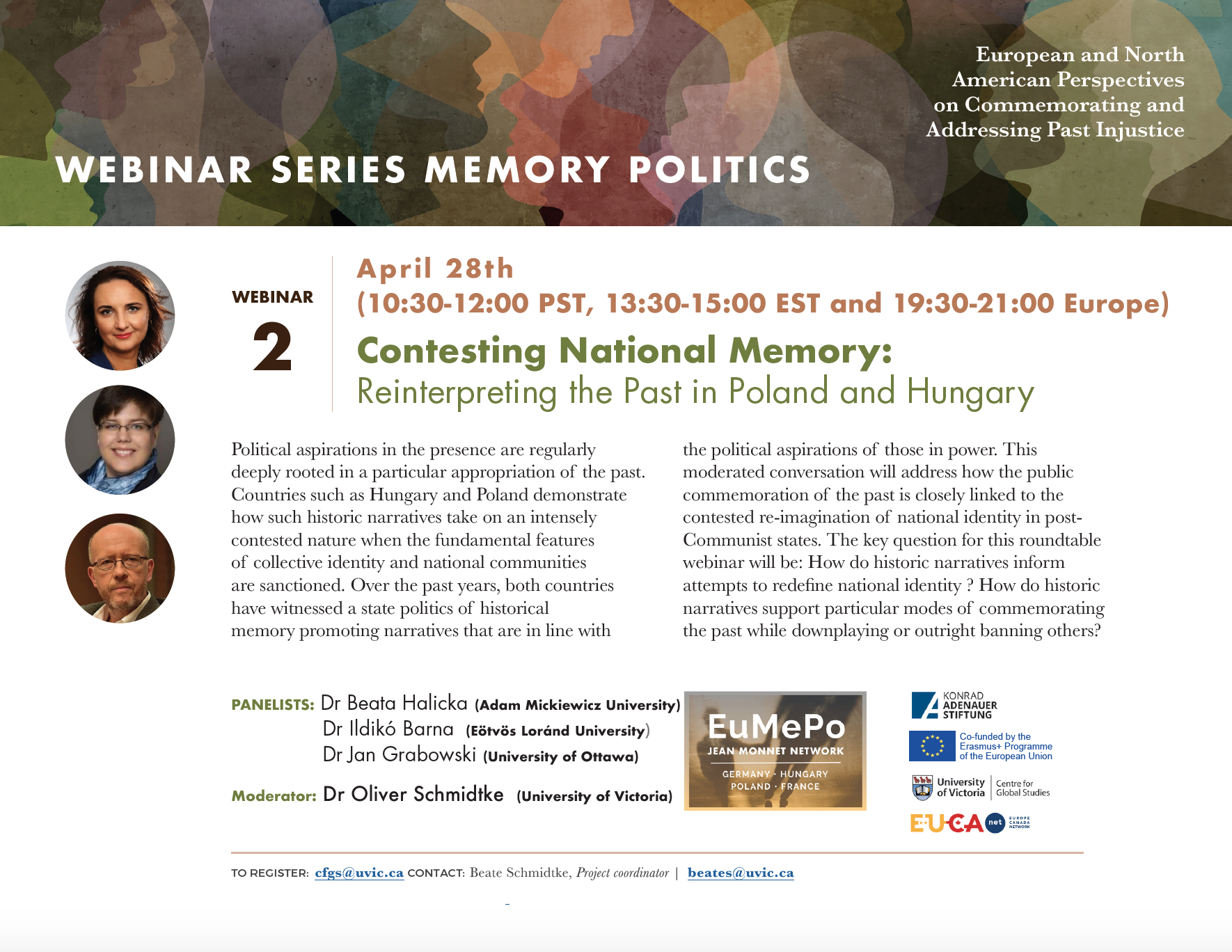 Webinar Series Memory Politics - April 28th Webinar 2 - (10:30-12:00 Pacific, 13:30-15:00 Ottawa and 19:30-21:00 European time) 
Registration is mandatory: 
https://uvic.zoom.us/webinar/register/WN_e0tiNpZTRCKhbZJWFXrC1w 
Contested National Memory: Reinterpreting the Past in Poland and Hungary
Political aspirations in the presence are regularly deeply rooted in a particular appropriation of the past. Countries such as Hungary and Poland demonstrate how such historic narratives take on an intensely contested nature when the fundamental features of collective identity and national communities are sanctioned. Over the past years, both countries have witnessed a state politics of historical memory promoting narratives that are in line with the political aspirations of those in power. This moderated conversation will address how the public commemoration of the past is closely linked to the contested re-imagination of national identity in post-Communist states. The key questions for this roundtable webinar will be: How do historic narratives inform attempts to redefine national identity ? How do historic narratives support particular modes of commemorating the past while downplaying or outright banning others?
Dr Beata Halicka is a professor of contemporary history at the Adam Mickiewicz University in Poznań. Her research interests include nationalism, forced migrations, constructions of identities in border regions, collective memory, German-Polish relations, Polish diaspora in the world. Dr. Halicka is author or editor of eight books and has published numerous articles in scholarly journals and edited volumes. For the study Polish Wild West. Forced Migration and Cultural Appropriation in the Polish-German Borderlands, 1945-1948 she received the Identities Prize 2016 for the best historical book in Poland.  Her recent book  Borderlands Biography: Z. Anthony Kruszewski in Wartime Europe and Postwar America will be published in English in summer 2021. More on: www.beatahalicka.pl/home/
Dr Ildikó Barna is a sociologist. She is an Associate Professor of Sociology at Eötvös Loránd University (ELTE) Faculty of Social Sciences in Budapest where she also serves as a Head of the Department of Social Research Methodology. Her research topics include antisemitism, xenophobia, memory politics, post-Holocaust studies, and quantitative research on archival sources. She is the co-leader of the Research Center for Computational Social Science (https://rc2s2.eu/en). The research center uses automated text analytics, namely Natural Language Processing, complemented with qualitative discourse analysis to examine textual data available on the internet or digitalized offline texts. Her publications include: Political Justice in Budapest after World War II, co-authored with Andrea Pető (CEU Press, 2015).
Dr Jan Grabowski's is professor of history at the University of Ottawa. His research interests include the issues surrounding the extermination of the Polish Jews as well as the history of the Jewish-Polish relations during the 1939-1945 period. He is the author of several monographs, including Hunt for the Jews. Betrayal and Murder in German-Occupied Poland (Indiana University Press, Bloomington & Indianapolis, 2013) which won the Yad Vashem International Book Prize for 2014. Professor Grabowski has recently completed a project dealing with the involvement of the Polish "Blue" and criminal police in the Holocaust. His forthcoming research focuses on the open ghettos in the Generalgouvernement. https://uniweb.uottawa.ca/members/546