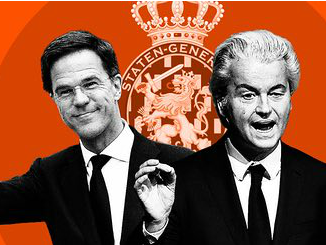 The Netherlands Vote – Expect the Unexpected, by Amy Verdun
By Amy Verdun, Jean Monnet Chair ad Personam at the University of Victoria
As the Dutch voters get ready to vote in the General Elections on Wednesday 15 March in the Netherlands, there is more international attention to these elections than is usually the case. Why is that? In a year with many upcoming national elections in various European countries (France and Germany for instance), and following on the increased interest by voters in the United Kingdom and the United States (US) to cause political turmoil, the eyes are now fixed on the Netherlands.
The reason is that the PVV party led by Geert Wilders – populist right-wing that profiles itself on an anti-immigration platform – is competing with the VVD right-wing liberal party of Prime Minister Mark Rutte are neck and neck in the polls. Either party is due to become the largest party in the Dutch second chamber. However, being voted the largest party in the Netherlands does not mean that it will receive many votes. The Dutch system being extremely proportional generates a political landscape whereby none of the large six parties is forecast to get more than 16% of the vote. Currently the polls have both PVV and VVD at 24 (out of 150) seats with three other parties trailing at 16 seats: Greenleft, the Socialist Party and the Democrats '66.
On Monday 13 March the first US style leaders debate took place hosted by 1-vandaag. To date Geert Wilders has not participated in any of the election debates and he also broke with a Dutch custom by not making his election program very clear: it exists on one piece of paper and he has not submitted his program to the online voting advice applications. Most Dutch political parties will typically produce a lengthy document and independent agencies will calculate the impact and feasibility of these programs. Thus, for many there was quite some anticipation to watch this leaders debate.
The 1-vandaag election debate was generally seen as a high-quality debate but each of them concentrated on profiling themselves in line with their own voters and as such most journalists indicated that they felt that Rutte won 'on points'. This debate took part against the backdrop of a political row involving Turkey. It is as of yet unclear whether this row will have an impact on the elections. To date the polling companies suggest that the polls have not (yet) responded. Tomorrow, 14 March, the last leaders' debate will take place with sixteen leaders part of it. If there is another aspect of this election that is spectacular it is the fact that the result of these elections promises to generate a very large number of very small parties.
Thursday 16 March, the day after, will be closely watched internationally. Many will want to see whether the Netherlands, that is known for its progressive stance on values, long time open economy, friendly towards the European Union, will find itself with the largest party made up of a politician with blonde dyed hair, who says he wants to get rid of mosques, close the borders, and leave the EU. Even though it is extremely unlikely that this party, even if it emerges as the largest party, will be able to form a coalition, it would still be a shock to the system.
About the author: Amy Verdun is Professor of Political Science and Jean Monnet Chair ad Personam at the University of Victoria, in Victoria BC, Canada where she has been since 1997. Her recent research focuses on an evaluation of ten years economic and monetary integration in Europe, including research on the EU Stability and Growth Pact, innovative governance in the European Union, delegation and power in EU institutions, European Neighbourhood policies and the relations between the EU and its Eastern Neighbours, lessons from Europe for Canada, globalization, Europe's common agricultural policy, development and European integration, foreign policy and European integration, and comparative regional integration (including Europe-Asia comparisons).
https://www.eucanet.org/wp-content/uploads/2017/03/dutch1-e1620891779735.png
245
326
Christian Tautphaeus
https://www.eucanet.org/wp-content/uploads/2021/06/eucanet-logo.svg
Christian Tautphaeus
2017-03-13 07:23:40
2021-09-13 11:32:16
The Netherlands Vote – Expect the Unexpected, by Amy Verdun